Brad Eaton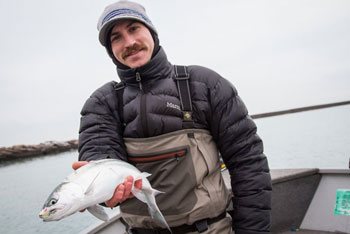 Brad is an avid outdoorsman that found his passions for nature later in life than most.  He spent a lot of time outdoors growing up, but didn't find his love of fishing until he was out of college.  A former boss and old roommate were tournament bass anglers and introduced him to what would soon become an addiction.  It wasn't long before he was spending most weekends chasing bucketmouths and traveling to lakes around the country.  But it would be through his love of photography that he found fly fishing.
"Taking the leap and getting in to spin fishing with such great mentors, really helped set me up to be a successful fisherman.  I've been able to apply the lessons they taught me on different bodies of water and for different fish.".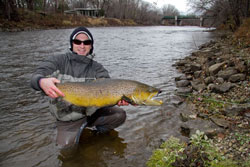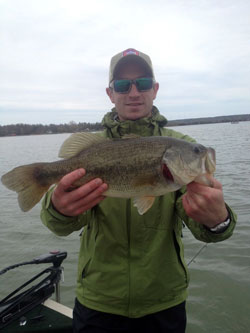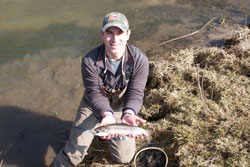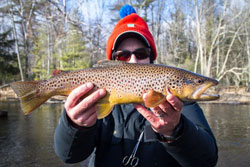 His dad first planted the seed with mention of learning the sport together, but it was when he received his first fly fishing magazine that things got serious.  Seeing some of the beautiful photos of trout and all the amazing places this magazine wrote about, he fell in love with the possibility.  Since then he's set out to learn as much as he can about the the Driftless Area, and other areas around the Midwest and dedicated as much free time as his wife will let him, chasing anything that'll eat a fly.  Traveling the Midwest with tent and camping gear in tow, he loves communing with nature and discovering new water and fisheries.  Brad's the guy you'll find fishing a local pond for bluegill, in his shirt and tie, between sales calls.
"From about March 1st to the early parts of November, I've almost always got a fly rod in the car.  Strung up and ready to go, with a box of flies and tackle in the back seat, I try to get out and chase warm water fish as much as I can.  I'm a sucker for a fiberglass rod and fishing top water for bluegill and crappie."
When not fishing, he's normally writing about it, or editing photos from a recent trip, for a blog he manages, "Tippets and Tales."  From short stories, to interviews with different personalities, and photo essays, he dabbles in a bit of everything from a creative standpoint. Brad spends most of his time writing or behind the camera, taking photos, or filming.
Outside of fishing, he's been sport shooting since high school and loves shooting skeet, trap and sporting clays.  In the last few years he's been introduced to upland game hunting and has found he enjoys spending time walking a field, kicking up birds.
"In the last year or two I've found one of the best ways to spend a weekend is casting for some trout and blasting for some pheasant. I hope to motivate the Takedown Nation to grab a fly rod and hit the water!"