Frankie Adler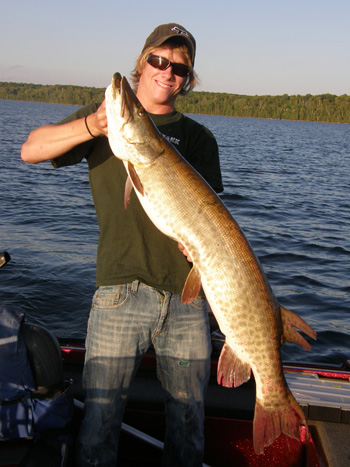 I grew up in the Northwest suburbs of Chicago. I graduated from the University of Iowa with a Civil Engineering degree. I have now moved back to the suburbs of Chicago to work as a building restoration consultant. I was lucky enough to be introduced to the outdoors at a very early age to the outdoors by my Dad, Frank. For as long as I can remember we have hunted, fished and enjoyed the outdoors every chance we could when I wasn't playing ice hockey growing up. In fact, he brought a Daisy Red Ryder BB- gun to the hospital the day I was born and we've been hunting buddies ever since. Being the only boy of 3 children, my 3 cousins were like my brothers when it came to the outdoors. All being the same age and living one block away from each other we got to experience all the outdoors has to offer together.
I remember my Dad bringing me upland game and waterfowl hunting was I was only 5 and I used my Daisy Red Ryder. I would never actually hit anything with it but when a bird did fall he'd always let me think I got it. At 10 years old I received my hunter's education card and my Dad and I went out and got my first hunting license and deer tags. That year I shot my first deer, a doe, using a 243 rifle and I was hooked!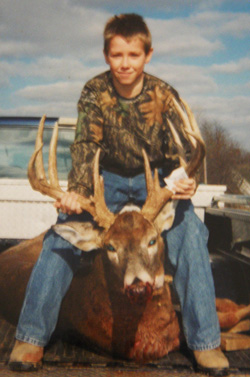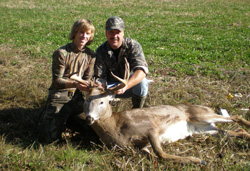 I harvested my first deer with a bow at age 12 on our farm in Southern  Illinois. I have taken many animals such as; deer, turkeys, coyotes, small game, upland game birds and even frogs from this property over the past 10 years of my life. No animal harvest has been forgotten but some of my most
memorable have been my 176″ whitetail taken during the Illinois shotgun season at age 13, my 164″
whitetail with my bow at age 18 and 190″ miss with my bow in 2010. Although these are some of my
greatest memories while hunting, nothing can compare to the memories I've shared with my Dad,
cousins and friends from just being at deer camp regardless of the outcome of the hunt.
I've been documenting my hunting and fishing adventures by filming them when I could over the past
few years. I hope to bring my unforgettable experiences to Takedown Outdoors for all to enjoy and
hopefully given the opportunity introduce many new people to the outdoors.