Russel Franceschina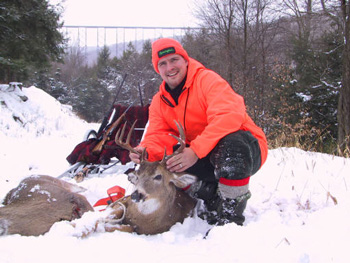 Living on a dead end street with acres of woods just feet away made for some great days of exploration with my brother in the suburbs of Pittsburgh. We spent endless hours exploring the woods searching out treasures, deer and any wild animal we could find. Catching crawfish, salamanders, setting snares, eliminating chipmunks from the yard and trapping raccoons were all part of our daily summertime adventures. As we got older we started fishing with the guys. Picking up my first fly rod when I was around 8 years old I fell in love with the sport. I shot my first shotgun at 10, a twelve gauge nonetheless leaving a huge black eye on my face. Throughout my childhood, I remember waiting anxiously on Saturday evenings at home for Dad to return from a hunting trip to see what he bagged. As we graduated into the world of hunting at the ripe age of 12, we spent every Saturday from September through December in the woods chasing squirrels, grouse, pheasants, rabbits, deer etc. I bagged a doe with a 30-30 lever action open sights
my first year hunting. Our Sundays were typically filled with cleaning game while dad watched football and cleaned guns.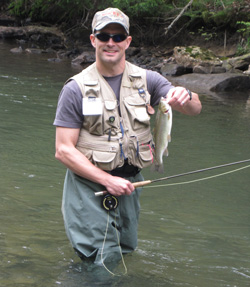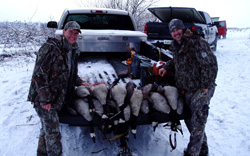 At age 17 I shipped out to Chicago to attend Illinois Institute of Technology to study Architecture. The big city was a very different style of life for me. I had the chance to study in Italy for a semester and discovered I enjoyed traveling and exploring new places. Looking back I now realize what an important part of my life this was. My appreciation of the outdoors grew even deeper because of those years I spent away from the mountains and streams I had grown up with.
The past couple years my wife and I have coupled our adventures with doing triathlons and recently completed a full Ironman distance race. Honoring God with our physical fitness and health is important to us as a couple.
My deep respect for the outdoors and the game that I chase would not have been if it wasn't for my family showing me the joy in it. I'd chose a cold winter day in a deer stand over watching a game any day. When the day comes that I can no longer wade a stream or climb in a stand I want to know deep down that I gave it my all while I was capable. My desire is to live life to the fullest and experience God's creation all over the world with no excuses and no regrets.
I have been married to my adventurous wife Dawn for twelve years. We live in the Western suburbs of Chicago where I am a self employed Architect. We love to travel, hike, rock climb, kayak, camp and simply explore new places.